23 listopada 2019 19:00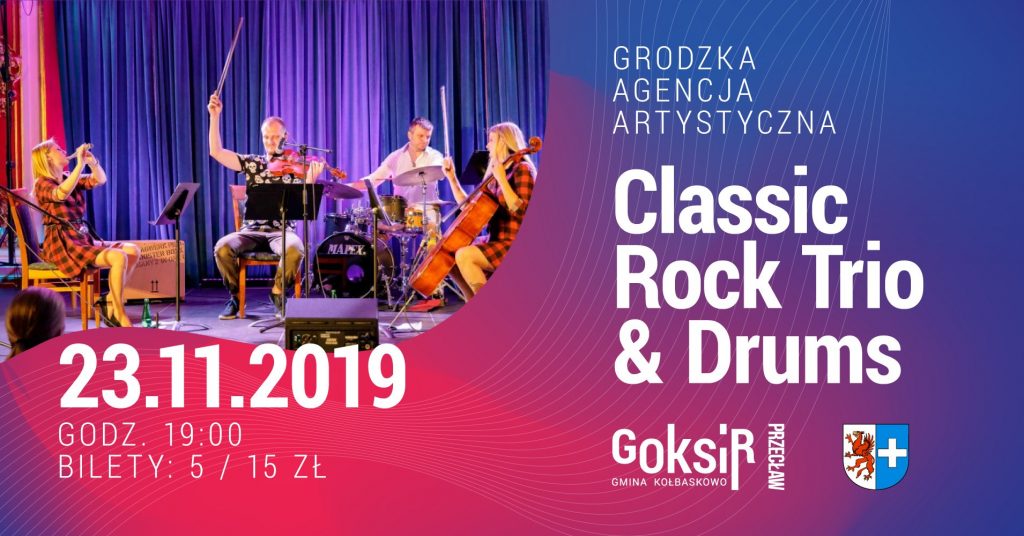 Zapraszamy na arcyciekawy koncert muzyków klasycznych w repertuarze iście rockowym.
Flet, altówka i wiolonczela wzbogacone o surowe brzmienie perkusji.
W repertuarze takie światowe i polskie hity muzyki rockowej jak:
1.Smells like teen spirit – Nirvana
2.Nothing else matters – Metallica
3.Lonely Day – System of a Down
4.Chop Suey – System of a Down
5.Aerials – System of a Down
6.Stairway to heaven – Led Zeppelin
7.Listen to your heart – Roxette
8.With or without you – U2
9.Numb – Linkin Park
10.Iris – Goo Goo Dolls
11.Radio Video – System of a Down
12.Odchodząc – Republika
13.Wehikuł czasu – Dżem
14.Bohemian Rapsody – Queen
15.Zawsze tam gdzie ty – Lady Pank
16.Highway to Hell – AC/DC
17.Poison – Alice Cooper
18.Red Hot Chilli Peppers – Otherside
19.LemOn – Scarlett
20.The Cranberries – ZombieArtyści postanowili zaskoczyć publiczność niespotykaną barwą symfonicznego rocka – zastępując ciężkie gitary, basy, i wokal instrumentami klasycznymi + zestaw perkusyjny. TO TRZEBA USŁYSZEĆ!!!
Bilety dostępne w kasie GOKSiR oraz na bilety.fm
-Kołbaskowska Karta Mieszkańca – 5,00 PLN
-Pozostali widzowie – 15,00 PLN